The William Johnston & Company Limited supported Citroen C1 Endurance racing team enjoyed considerable success, had a lot of fun and raised valuable funds participating in the 12 hour Race of Remembrance organised by Mission Motorsport over the Remembrance weekend of Saturday 13/Sunday 14 November at Anglesey Race Circuit in North Wales.
Mission Motorsport, the forces' motorsport charity, aids the recovery and rehabilitation of those affected by military operations by providing opportunities throughout motorsport and the automotive industry. You can find out more and donate at https://www.missionmotorsport.org
From big industry to small, over 200 wounded MM beneficiaries have successfully accessed post service employment via the charity's training and placement schemes. On the sporting side, they are usefully fulfilling roles in Formula 1, Formula E and the World Rally Championship.
Held since 2014, the Race of Remembrance is a unique event on the UK motorsport calendar with the 12 hour endurance race being suspended on the Sunday morning for a 45 minute Remembrance Service in the pit lane. Competitors, pit crews, marshals, staff, and supporters along with serving military personnel and veterans come together as one to remember the fallen, those who have gone before us and paid the ultimate price and to think about those who remain, who have given so much and who live on.

Led by a Military Padre, readings are given by injured personnel, hymns sung by a military wives' choir, and a poignant recital of The Last Post is performed by a veteran bugler.

This year the race began with 53 cars on the grid at 3.00pm on the Saturday and ran, mostly in the dark, until 9.00pm. The re-start was at 9.00am on Sunday and, with a break for the Remembrance Service, finished at 3.45pm. There were 5 classes of car based on their power to weight ratio.

The William Johnston & Company team Citroen C1 was racing in the least powerful class which featured 8 other identical cars. At the chequered flag on Sunday afternoon the car finished second in its class and 30th overall in the 53 car field which included Porsches, Lotuses, BMWs, Caterhams and Morgans.

The William Johnston & Company driving team included Peter Cruickshank and Steven Grey who between them have hold four Scottish Ford Fiesta ST Championships so their speed and experience in the C1 was invaluable.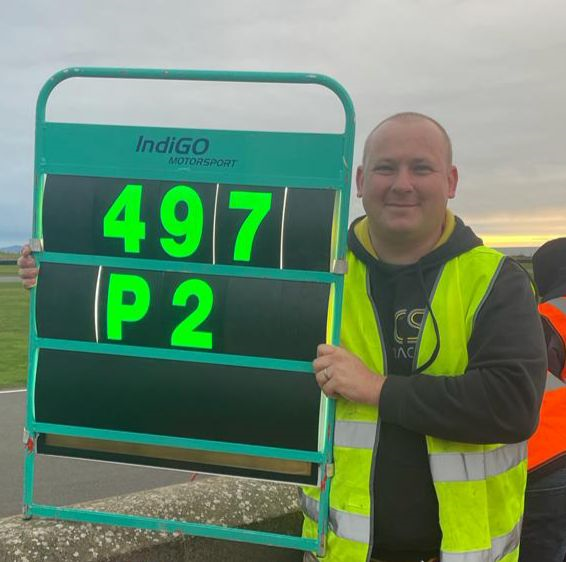 The ethos of the Race of Remembrance is to involve both able bodied and injured military personnel in the event where possible. The Morgan Car Company provided one of their classic style sports cars fitted with hand controls which was driven by a team of disabled male and female veterans. Some volunteered to assist with the organisation and administration of the event before and during it while others could be seen in the pits aiding teams with repairs, re-fuelling, lap-timing, etc.

Assisting the Willian Johnston & Company team was Lance Corporal David Bolton of the 3rd Regiment Army Air Corps. David, 36, has over 15 years of service with the REME (Royal Electrical & Mechanical Engineers) and his day job, at Wattisham airbase near Ipswich, is as an avionics technician on Apache helicopters. The Race of Remembrance was David's first ever race meeting and his skill and enthusiasm contributed significantly to the success of the number 497 car.
David said "It was an honour to be involved with the Race of Remembrance. I am a big fan of the Citroen C1 – my wife drives one – so it was great to be able to assist fellow enthusiasts on a very worthwhile event and, of course, getting an excellent result makes it even more so. Most of all it was great fun so I will be back!"
Sandy McEwen, Managing Director of William Johnston & Company Limited, said "Mission Motorsport has created a landmark event in UK motorsport with the Race of Remembrance. As an endurance race, it requires excellent team work and tests all participants to limits they may be unaware of, so the synergy with military service is strong. Aside from fund raising, the tangible element of being involved with an event which gives veterans and others roles
and a sense of purpose is vital. We hope to return and again contribute to, and most importantly enjoy, the fun atmosphere of this important race."